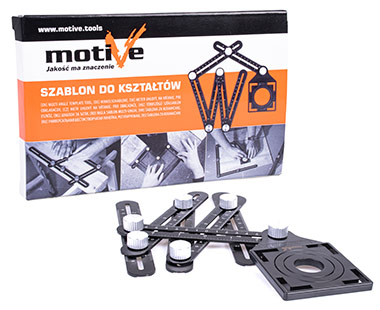 Introducing the multi-angle measuring tool by MOTIVE
This optimized multi-angle measuring tool is an ingenious, ruler that allows you to accurately measure, trace, transfer and cut perfect angles and holes in a vast array of applications.
How to use multi-angle measuring tool?
Place the template tool ruler onto your work area and slide the rulers into the shape needed.
Tighten the screws at the ends of the arms to lock and maintain shape / angle when transferring.
Use a ruler, trace or cut (depending on the purpose of your work).
Loosen the screws, fold and keep it for the next job.
Technical details:
Two additional reduction rings to change the diameter of the cut holes.
Aluminium alloy arms with two metric units (centimeters and inches).
Adjust the six metal knobs to create the desired shape accurately.
Possibility to rotate almost 180° and move each arm by almost 13 cm in relation to each other.
Six adjustable arms and knobs to precisely create the shape you want.